How to Use Remitly Money Transfer Service and Avail of their Promo
Filipinos are looking for ways to save when sending money to their loves ones in the Philippines. I had searched online to look for another Money Transfer Website that offers a FREE fee when sending money to the Philippines and REMITLY was one of my top choices. I was able to inquire about their service and talked to a Pinoy kababayan through the phone, who was so nice with regards to my inquiry. From time to time, Remitly has new offers and promos, and recently they are offering a FREE FEE when sending money to the Philippines and $30 Gift card from Amazon.com.
I also had tested their chat service and was glad that all of my questions were instantly answered and was not able to wait for several minutes through their phone and chat service. They are available 24 hours a day, 7 days a week via chat, email at service@remitly.com or phone at Toll-free (888) 736-4859.
Like most money transfer services, they have great delivery options in the Philippines. They have many choices for your recipient to receive their cash and these are the Cash Pickup, Bank Deposit, and Direct to Phone delivery for Pesos or US dollars.
REMITLY supports cash pickup at nearly 11,000 locations in the Philippines and many locations are open 24 hours. They offer bank transfers to almost every bank in the Philippines. They have over 5,000 locations at pawnshops, rural banks, and Globe telecom centers. It's easy to locate the closest GCash location for your recipient once you start sending money.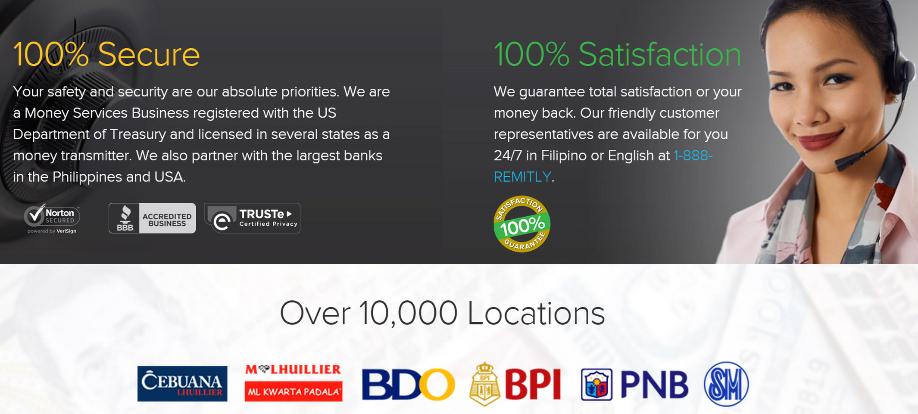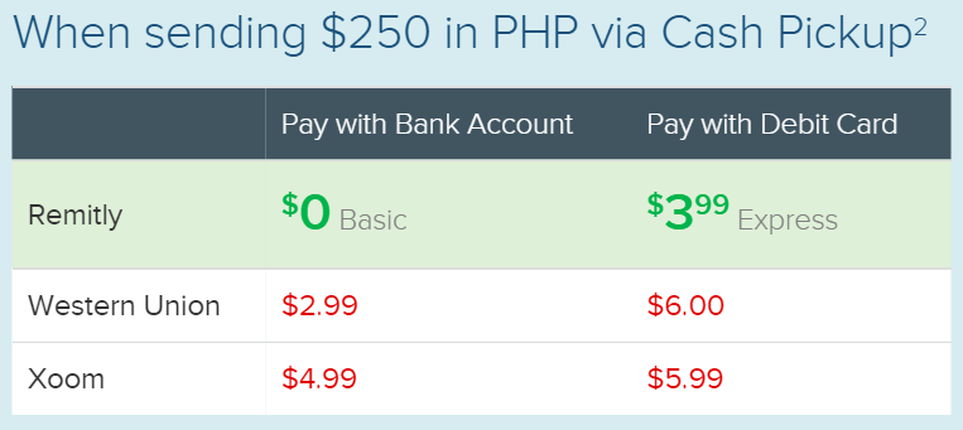 Their PROMO was also great the first time I sent money because I was able to receive $50 worth of Amazon Gift Cards that I was able to use online as an extra perk from their service. Please take note that their offers and promos can change too. When I had signed up, I was given the option to select between Amazon or Walmart gift cards. If you do not make a selection at sign up, you will still be emailed and asked to choose between Amazon or Walmart (Gift Card Providers) after you first qualify for one or more gift cards

So if you send $250 - $499 within 30 days, you'll receive one (1) $25 Gift Card; if you send $500 - $749, you will receive two (2) $25 Gift Cards a total of $50; and if you send $750 or more within 30 days, you'll receive three (3) $25 Gift Cards a total of $75.
All new customers who sign up and send $250, $500, or $750 or more in their first 30 days with Remitly including those have already signed up but have not sent money for the first time, are also eligible for this promotion.
They will email your gift card as soon as your first transaction is complete and this means that the cash is picked up by your recipient or the money is successfully deposited into your recipient's bank account. After this, you will then receive an email with the gift card along with instructions on how to redeem it. Below is the Latest Promo that they are giving to New Customers and from time to time, they change it too.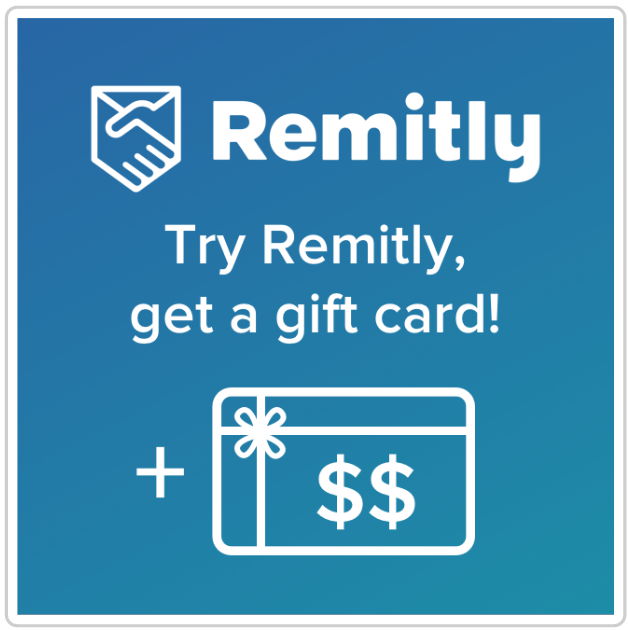 You can send money from your US bank account by selecting their "BASIC" service. Remitly's BASIC service is free - which means no fees for sending money coming from your bank account. To take advantage of this service, simply choose"BASIC" when selecting your Delivery Speed. With the basic speed, you can either select "bank deposit" or "cash pick-up" through the Select Delivery Location.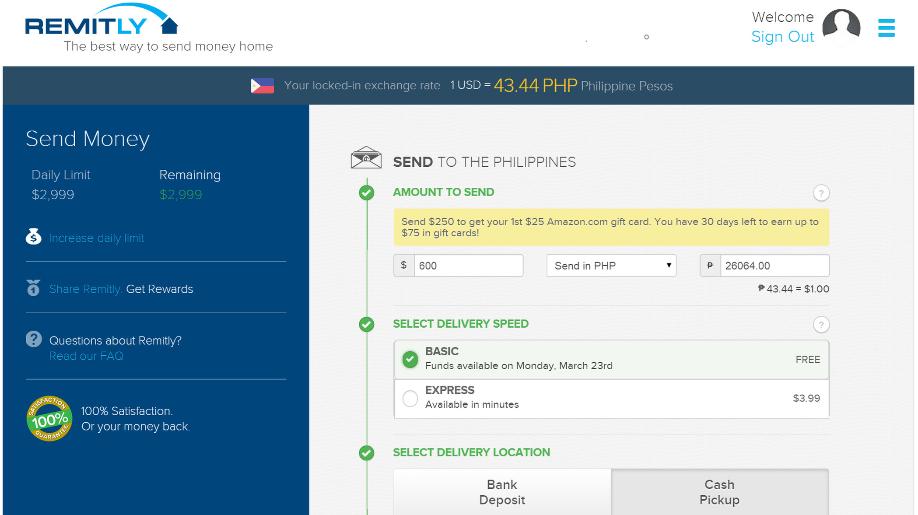 Next step is to fill-out the Details of your Recipient. If you want to know when your recipient will be able to receive the money you're sending, you can add his or her mobile phone number for the upcoming text message but be sure not to check the Don't SMS Recipient box.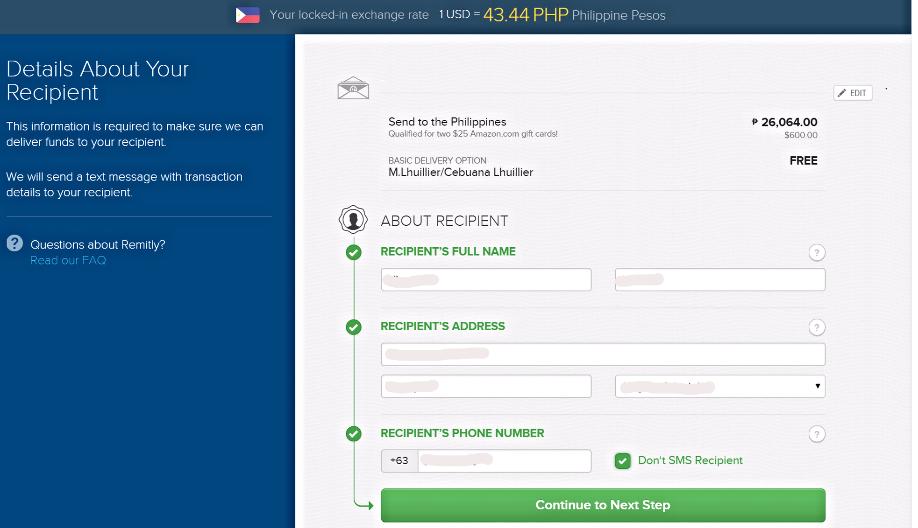 Next is to fill-out the Details about Yourself in order to validate your identity. You can also edit anything before sending the money to your loved ones by clicking the "edit" button located on the upper right side for each category.
Remitly is a licensed online money transmitter, regulated by banking and federal agencies. The first time you process a transaction, they will ask you to add personal information about yourself. This includes your name, address, telephone number, last four digits of your social security number and your birthday.
This information allows them to comply with banking laws and keep their online remittance service secure by validating the identity of their customers. You will be doing this once and your next transaction will be more faster and easier since they had already stored your important information.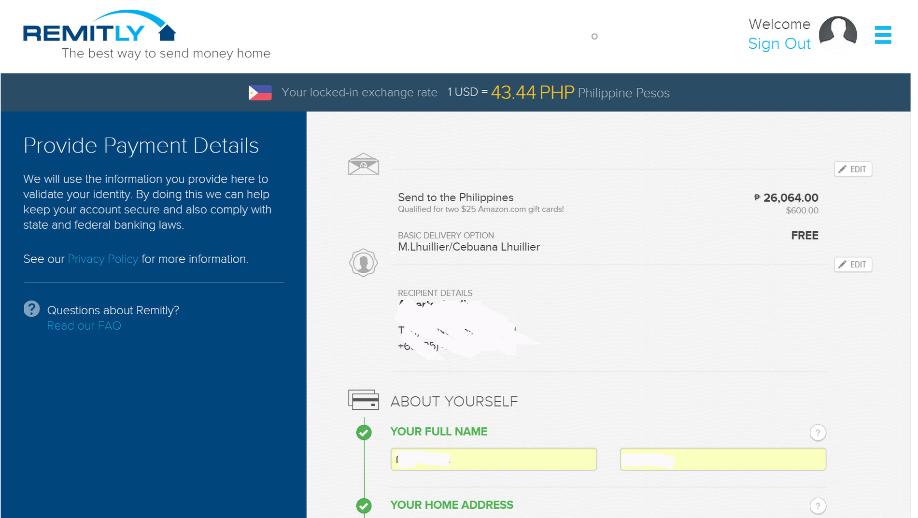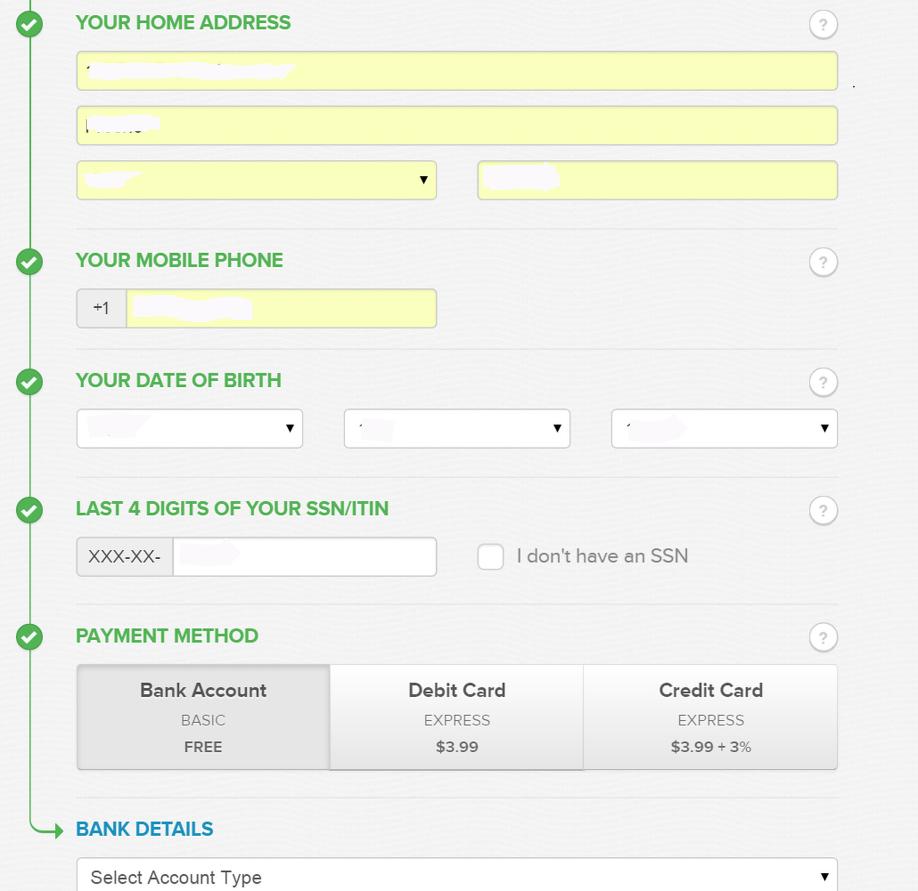 When you enter your payment information, you need to provide your routing and account numbers exactly as they appear on your check. These transfers will take up to three business days to complete. Your bank will date the transaction the business day after you send it to REMITLY and then deliver the funds to them after two days. REMITLY will complete the transfer to your recipient immediately after confirming the delivery of funds coming from your bank. Generally, these transactions submitted after 5:00 PM Pacific Time will be processed the following business day.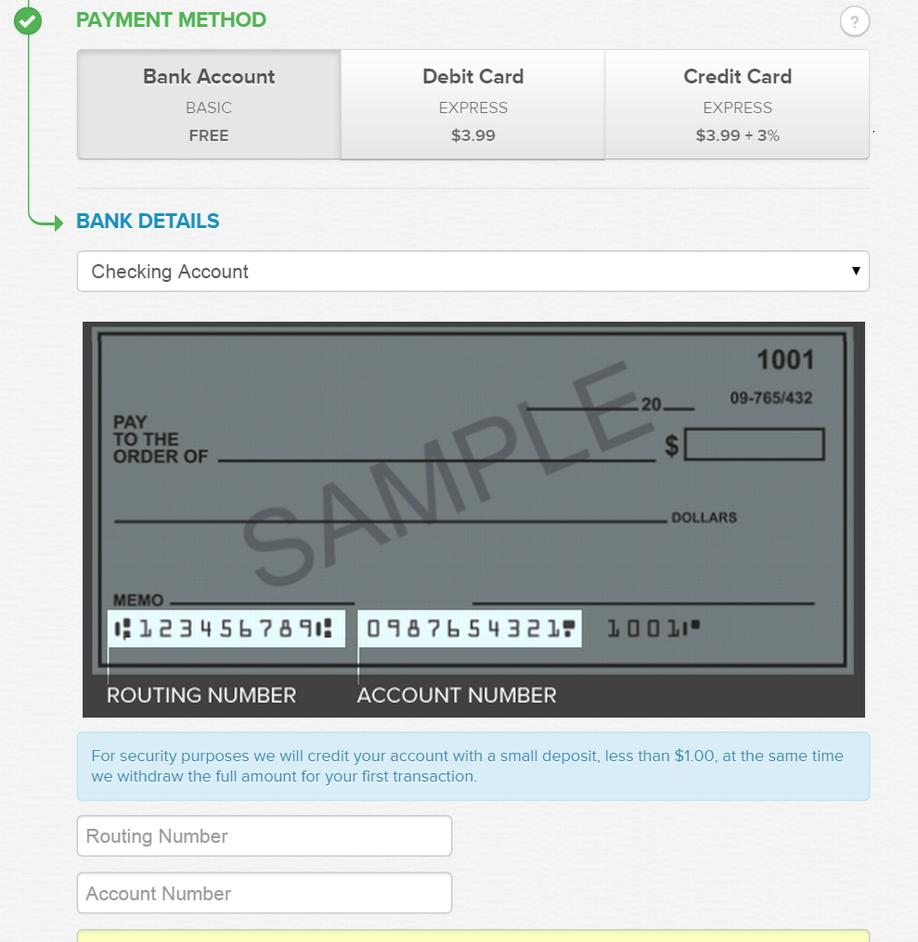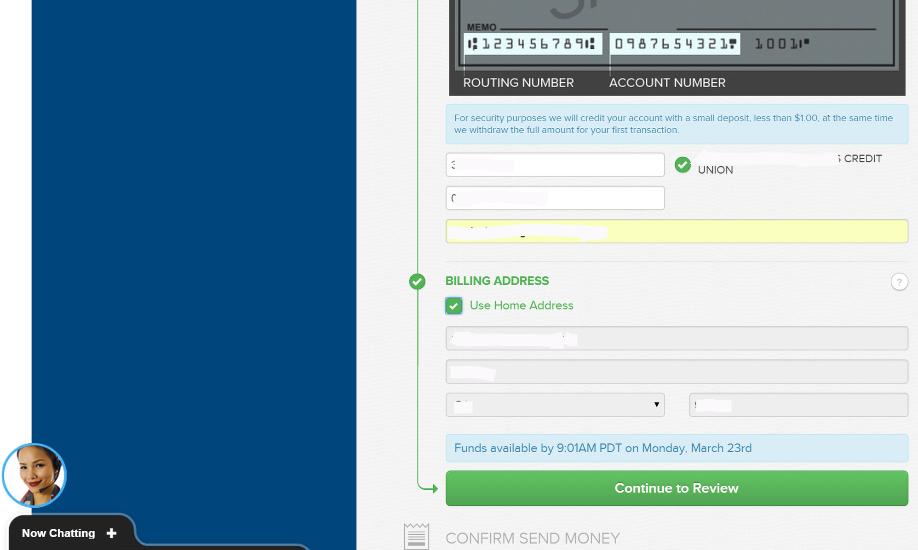 Since I was one of their new customers who signed up and sent money within 30 days, Remitly emailed my gift cards as soon as my first transaction was completed. By the time that the cash was picked up by my recipient (or when the money was successfully deposited into your recipient's bank account), it only took 2 minutes for me to receive my FREE $50 Amazon gift cards when I sent $600 to my family and these gift cards were simply sent through my email. I received a $25 Amazon gift card twice with the instructions on how to redeem it. You can view them below: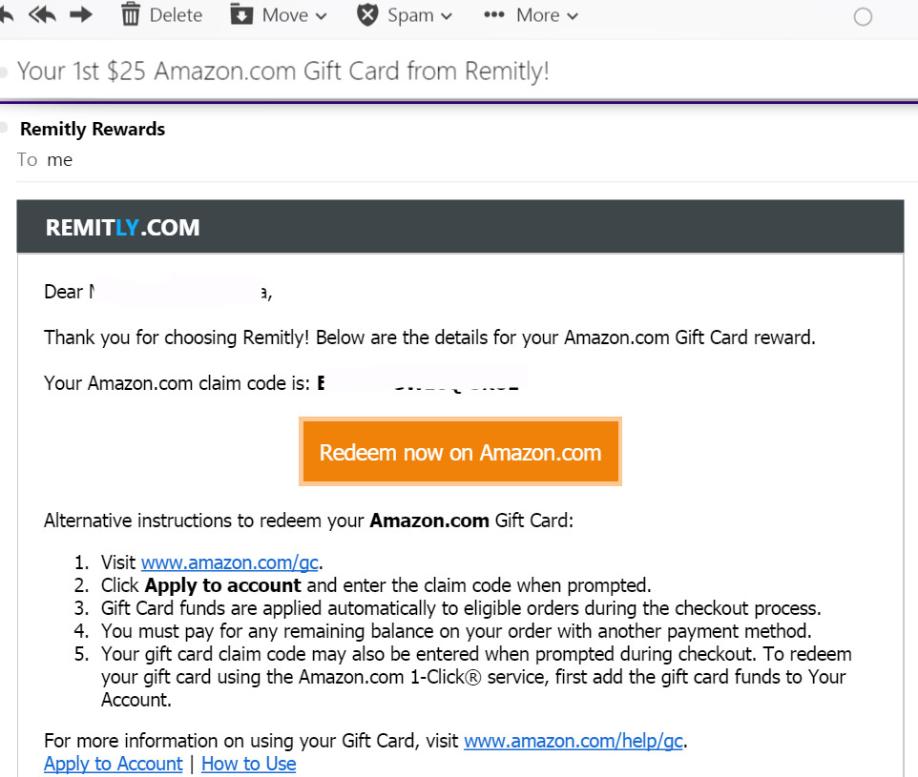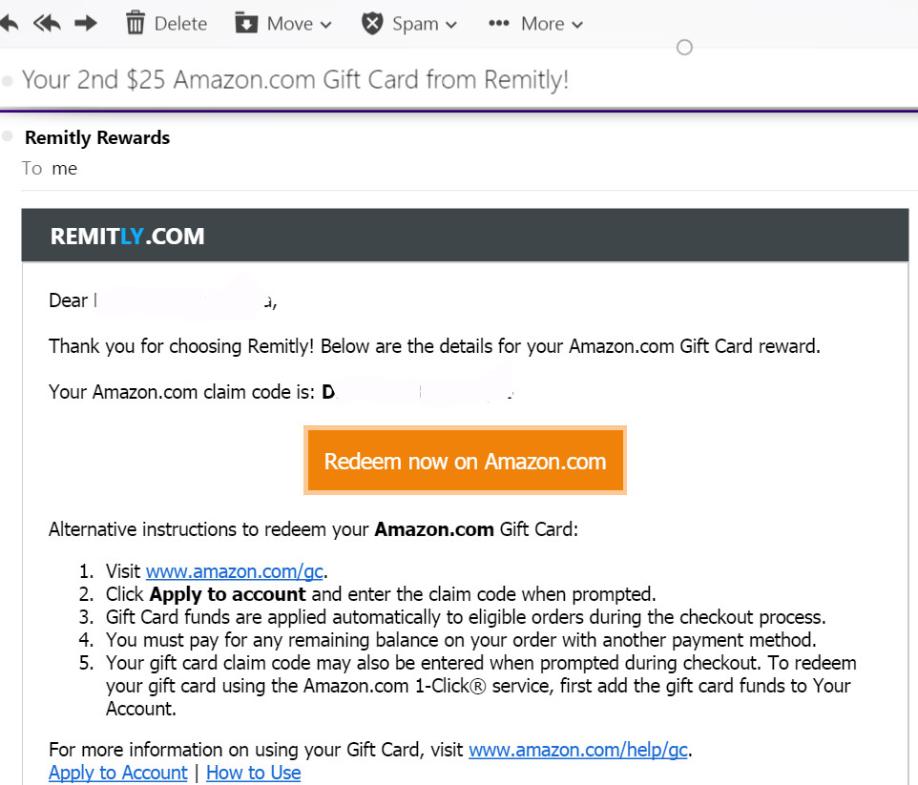 I already had $67 left on my Amazon Gift Card Balance so when I received the first $25 Amazon gift card, the total balance added up and became $92 as my current balance. When I redeemed the second $25 Amazon gift card, my current and total balance became $117 and the nice thing about it, is that...it never expires! If you're planning to send financial assistance to your loved ones in the Philippines, you can simply visit Remitly, check for their latest PROMO, avail of their FREE fee and compare it to the other remittance websites if this is the right money transfer for you to use.
(Photo credit Remitly and Amazon)
Related Articles:



You have the option to confirm any changes you wish to make (including the delivery method, name, or contact information of your recipient). After you had submitted everything, you can still cancel a transaction or get a refund through their Request To Cancel A Transaction via sending an email to service@remitly.com using the registered email in your Remitly account. Make sure to include the Reference Number in your email including the reason for cancellation.
For a faster cancellation of a recent transaction, simply call Remitly at (877) 526-4216. One of their friendly Customer Care Representatives will assist and explain how your refund will be processed. Please take note that your transaction is only eligible for cancellation as long as your recipient has not claimed yet the transaction, or if it the funds have not been deposited to your recipient's bank account. Remitly also changes their Promo from time to time but they always offer their FREE Basic Fee.
Remitly also offer sweepstakes but the nice thing about their service is that you can send as low as $10 because this is the minimum required amount that they allow you to send with FREE fee. So if you need to send a small amount of money every week or twice a month instead of every month, then you can do this now without worrying of paying additional fees as long you choose their economy delivery speed which is free for up to 3 business days waiting time.