How To Get Cashback Through Your Groupon Purchase!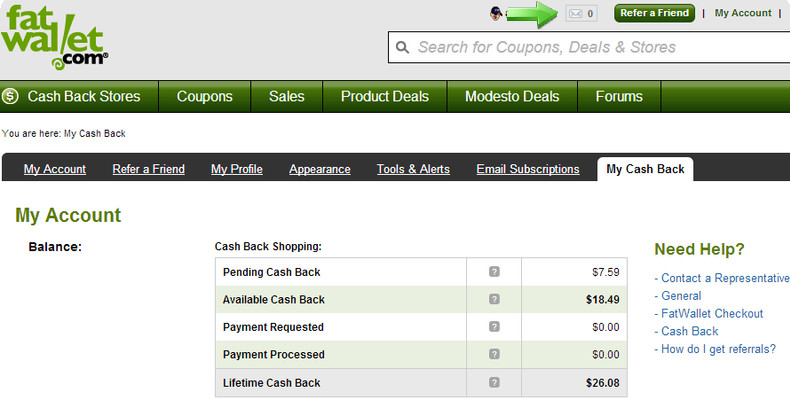 The above photo shows my cashback reward through Fatwallet, helping me get my money back for shopping online. Merchants pay Fatwallet commissions since this website send us (potential buyers/customers) to these merchants that they have links with. As a cashback site, Fatwallet gives their members a percentage of those commissions. This is the reason why they remind their members to click through the trackback link that brings them to any of their merchant's online store and complete the purchase.
How do their members get paid? Fatwallet pays their members through Check or Paypal very fast (takes a day through PayPal or may take a few days through Check) and their website is very easy to use. Click to continue reading...
Free 500 Amazon Coins
Amazon.com had launched Amazon Coins as their virtual currency program on May 13, 2013 and sent Kindle owners 500 Free Coins as a new way to purchase Kindle Fire apps, games and in-app items from their website. The more coins that you want to buy then the more you will save due to the discount from $0.20 (4%) up to $10.00 (10%) that they are currently offering and those purchased coins are immediately deposited into your Amazon account that never expire, therefore you will have an option to spend them immediately or save them up for later.
How I Used My Free 500 Amazon Coins
I tried to use my free coins after 3 days and I was glad since it was easy to do so. My little one was so happy to use the Educational Apps that I had chosen for her. Below is part of the email sent to me by Amazon so I simply clicked the "Amazon Appstore for Android" and was taken to their official website.
On the left side of the webpage where I was directed to, there was the word "Browse" so I tried to click on "Education" under "Categories" because I wanted to use the educational apps. The new web page came with the heading "Apps for Android>Education so I clicked "Kindle Fire HD 8.9" followed by "Kindle Fire HD" since those are the Kindle Tablets that I and my daughter are currently using. Click to continue reading...
Wayfair is a huge online shopping mall or website for various home products. They have almost everything if you want to shop for home, such as furniture, kitchen, bedroom, home decoration, tools, office furniture, bedding, lighting, outdoor furniture, bathroom, baby supplies, and so much more.
I had personally shop recently at their website and was given a 10% Wayfair promo code in addition to the furniture that was already "on sale". I was able to save with the Kid's Recliner Chair with a Cup on my first and recent order plus got the 3% cash back reward.
The first time I had opened the Wayfair website, there was a 10% welcome discount if I will provide my email address so I had submitted my email address and there was a box that pop out and had automatically given me the said 10 percent discount coupon that I needed to copy and paste by the time I was ready for checkout. Since I was hesitant to spend anything on that day, I had lost my 10% coupon through the web browser since I just closed everything and also accidentally deleted the 10% discount that Wayfair had sent me through my email address. Click to continue reading...
How to Submit a Yola Sitemap to Google Webmaster
Once you're done publishing your website, Yola as your host server site will generate a sitemap on your behalf and all you have to do is to submit this sitemap to Google Webmaster so that Google can offer you more information that you needed about your website.
Other Webmasters will not submit any sitemap for their website/websites but if you're the kind of Webmaster who wants to receive more info about your website then you can do this because it is offered for free from Google. Click to continue reading...



*Coupon Sale Deals is not responsible for the content

of our third-party external web sites.