The Best, Safest and Affordable Way To Send Money to the Philippines
There are many money transfer websites online where you can send money through your bank, credit card, etc. for fast transfer. But what are the safest, cheapest and best way to send it?
Research will truly help you decide which the best service to use. I was able to compare all of the money transfer websites below before I was able to use one of the services below.
The first thing I did was to compare the Philippine Peso exchange rate of these services on March 17 from Ria (1 USD = 44.24 PHP), Money Gram (1 USD = 43.52 PHP), Remitly (1 USD = 43.44 PHP), Lucky Money (1 USD = 43.44 PHP), Western Union (1 USD = 43.34 PHP), and Xoom (1 USD = 43.12 PHP). Exchange rate is the amount of foreign currency that will be generated for every dollar you send.
The exchange rate could change daily and up to several times everyday in order to follow the changes in the international currency market. These rates can vary among money transfer services because they modify it by varying amounts in order to profit on the transfer as well. It's important to get a guaranteed exchange rate rather than an estimated rate once you decide what service to use.
I've been using Western Union and Xoom for a long time and Western Union has been the safest way, I never had to call to call them as everything went so well every time I used their service. I only called Xoom once because my recipient was unable to receive the money although their representative was good enough and was able to fix the problem. Xoom has a fast service where your recipient can instantly receive the money within a few minutes. The disadvantage is their money exchange rate that is low and they no longer offer discounts to their long-time and loyal customers.
Ria has the highest money exchange rate so far (they could be the most affordable) but if you compare Remitly's FREE fee and PROMO (that is...if you send $250 - $499 within 30 days, you'll receive one (1) $25 Gift Card, if you send $500 - $749, you will receive two (2) $25 Gift Cards a total of $50, and if you send $750 or more within 30 days, you'll receive three (3) $25 Gift Cards a total of $75), you may want to try Remitly too. Take note that this promo is only available for new customers including those have already signed up but have not sent any money yet. They also offer sweepstakes but the good thing about this service is that you can send as little as $10 because this is the minimum amount that they allow you to send and absolutely FREE fee. So if you need to send a small amount of money every week instead of every month, then you can do this now without worrying of paying additional fees as long you choose their economy delivery speed which is free (3 days waiting time).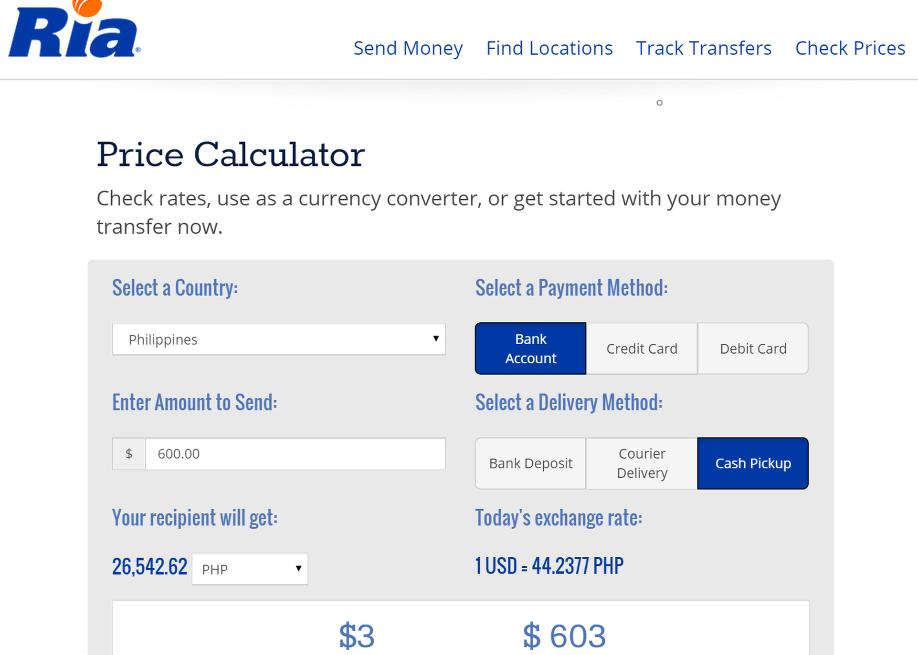 With Ria, new users sending money takes a bit longer although the next time you log in, the process is much easier. Simply determine how much money you'd like to send, which country and whether you'd like to pay with a debit card, credit card or a bank account. They have a price calculator for the exchange rate and payment method price for your total transaction cost.
Select how your money will be delivered whether it will be transferred to your recipient's bank account, a cash pick up at one of their 240,000 agent locations or a courier delivery in the Philippines. You have to enter your correct recipient's information with their first and last name as displayed on the government-issued ID, including their e-mail address or phone number. If you want to deposit money directly to your recipient's account, you'll need his or her bank account and routing numbers. But if you like to have your recipient pickup the cash, you'll need to select a local payout location.
You have to register so that sending in future transactions will become more easy. Their fastest way to send money is by debit or credit card which only takes about 15 minutes. Sending money through your bank account usually takes about four-five business days. It takes longer because it also takes time to verify with your bank account if the funds are available.
Their cash pick up or courier delivery is the fastest method when receiving money, but these options are also dependent upon the payout agent or with the courier's business hours in the Philippines. Generally, cash pickups and courier deliveries are available within the same day. With cash pickup, your recipient picks up cash at one of their 241,000 agent locations in 131 countries worldwide with a valid government issued photo ID and the order number found on the receipt. With the bank deposit, you as the sender needs to know your recipient's bank account and routing numbers. Courier delivery is offered in the Philippines and the sender's money can be delivered right to his or her recipient's home or office.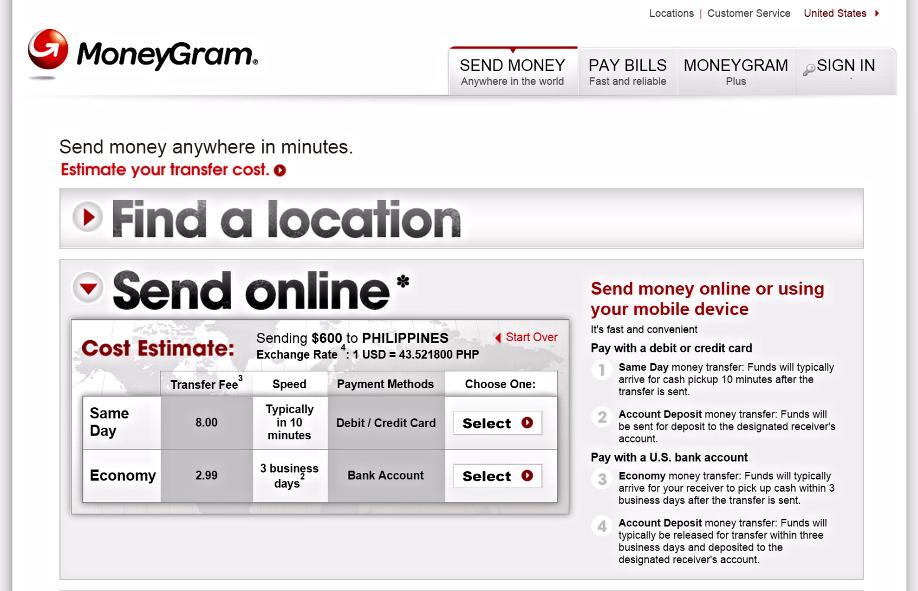 MoneyGram gives access to financial services for their consumers around the world. MoneyGram's services help people send money anywhere in the world quickly and in an affordable way. Their mission is to connect family, friends and loved ones through their 10-minute transfers. Their services are available in 200 countries and territories and in over 350,000 locations including retailers, international post offices and banks through mobile and online channels.

With REMITLY, using a credit or debit card when sending money to the Philippines will be completed in minutes. If you plan to use your bank account, it will be completed in three banking days. You will know if your recipient received their funds because they give you information about the status of your transaction at multiple points during the process. They will send you an email when they confirm when the bank funds were deposited, or as soon as your recipient claims their funds.
Your recipient must provide a valid government-issued photo-bearing ID with their signature in order to pick-up the cash. Their fees depend on the speed and delivery method you wish to use for your transaction. Many Filipinos try to avail theirBASIC Speed that uses their Bank Account with the FREE fee and the transfer will be available in 3 banking days. Their EXPRESS Speed uses Visa or Mastercard and the transfer will be available only in few minutes and the fee is $3.99. Paying $3.99 is fine as long as the exchange rate is high during the time you send the money or if the cash is badly needed by your loved ones. You can also avail of their FREE fee plus PROMO (up to $75 of Amazon or Wallmart gift cards) at REMITLY today.
Related Article: How to Use Remitly and Avail of their Promo
LuckyMoney.com has Money in Minutes which means when a repeat customer submits a transaction online, the remittance is available for cash pick up within 10-30 minutes, 24 hours a day 7 days a week. New customers are offered $0 Online Fee and 1-2 days processing in order to verify their bank accounts for their first transaction. There is a $3 online fee for repeat customers. After you send two transactions with your verified bank account, you will become a repeat Customer.
Sending money worldwide up to 15 countries with LuckyMoney.com is easy and their global money transfer service enables you to send money from home using your tablet or computer. You can pay with your U.S. bank account or pay using major credit cards. Your first transaction is free when you pay with your U.S. bank account. An additional $1 fee is applied when sending amounts less than $100. They are recently offering a Facebook Bonus - a $5 bonus can be claimed when you like their Facebook page. They are a BBB Accredited Business since 11/30/2005 with their Business Address is at 1028 Mission St, San Francisco, CA 94103-2813 with tel. no. (415) 864-8367.
Their Philippine office credits the bank account within 30 minutes of completing an online transaction for deposit to bank accounts of your recipient. They can credit bank accounts 24/7, except on weekends. Bank deposits done during weekends can only be withdrawn by the recipients the following Monday.
Money in Minutes for door to door delivery means that, after you submit your online transaction, your remittance will be forwarded to the nearest Lucky Money delivery area of your recipient, and delivered within 6 to 8 hours, 7 days per week. Their delivery times in the Philippines are from 8:00 AM to 9:00 PM (7 days a week). Lucky Money online repeat customers who want to send money at night can also avail of this service.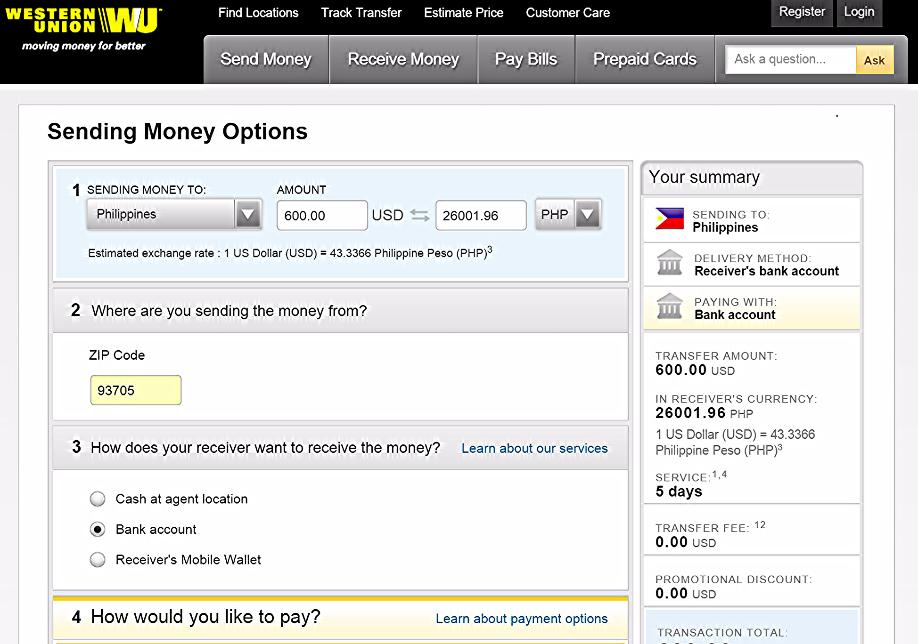 It's easy to send money at Western Union. If you want to send money, all you need to do is to go through the Western Union website at westernunion.com
. Fill out the form, and select how you want to pay either using a credit or debit card, or with your bank account. Your recipient will have an option whether to pick up cash at any Western Union branch, or have the money deposited into his or her bank account. Refer a Friend to Make a Transfer at Western Union & Receive an Amazon Gift Card Worth up to $100!
You need to contact your receiver to get the exact spelling of his or her name as it appears on the government-issued ID because if the name doesn't match, he or she will not be able to pick up the money. You also need your receiver's exact information such as phone number, address, city, province and country, and set the place on where he or she will pick up the money.
Your receiver shall need a government-issued photo ID, the MTCN (tracking number), which can be found on your receipt. If there is a test question that will be required, you'll need the answer for safety purposes. The receiver can pick up the money sent usually in just a few minutes, at an agent location available as early as 7 AM the following day, or up to 3 days from a bank account. An email will be sent to the address associated on your profile and it will include the date and time the money will be available. You can have an option to cancel or stop a regular money transfer if the receiver hasn't yet picked up the money.
They also have a Western Union Gold Card rewards program, now known as the My WU program which lets senders earn points whenever they send a qualifying money transfer online at westernunion.com
or in person at a participating agent location. You can combine your current points with the My WU program, and earn 1 point for every $2 in transfer fees spent on a single transaction. With the My WU program, you'll be able to see your 90-day transfer history whether you sent money online or in person, view and redeem points, and get text alerts when your money's picked up.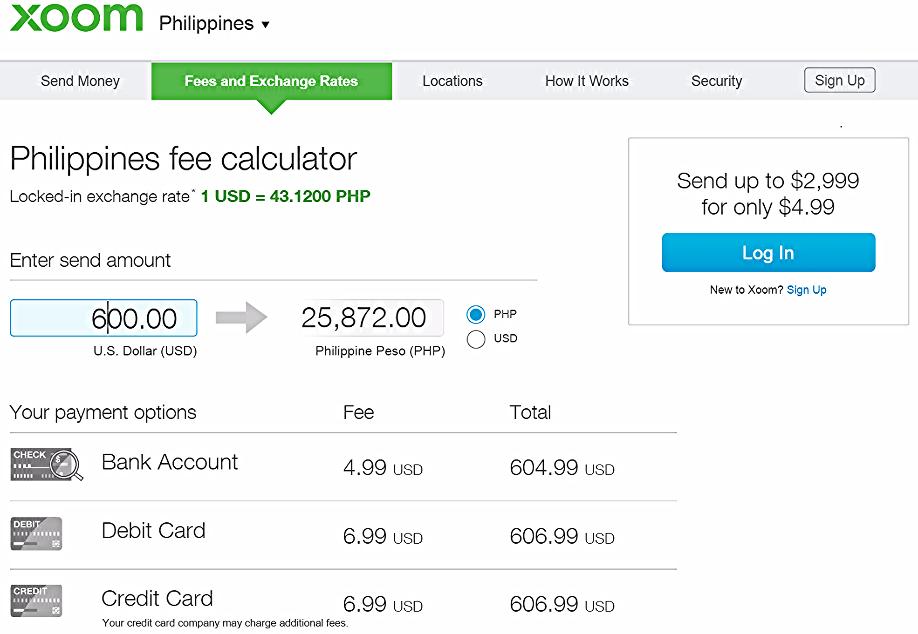 At Xoom, you money's ready for pickup within minutes. You can also choose to send with your bank account, and like other transfer websites, the money will be available in a few days. The money that you'll send will be deposited into your receiver's bank account in one or two business days. You have to get the correct information from your receiver before you send such as the Bank Name, Bank Code, and Account Number.
at westernunion.com
About Us | Disclosure | Privacy Policy
*Coupon Sale Deals is not responsible for the content of our third-party affiliate external web sites.