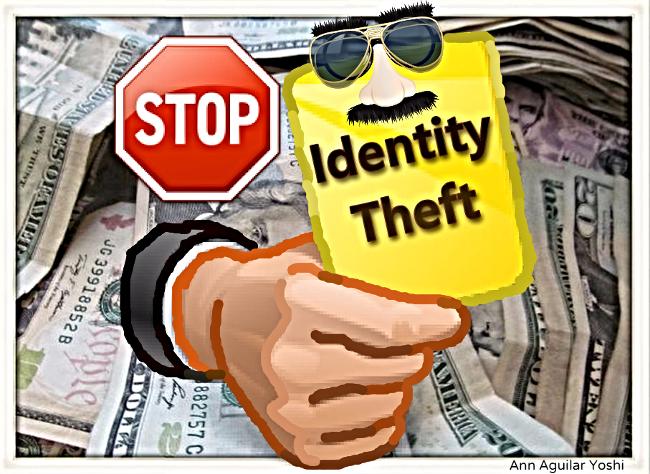 How to Prevent Identity Theft
Do you know how to protect your identity if thieves steal your personal information to commit fraud? The damage that they can create once your credit status will be flawed is tremendous. We hear in the news that a growing number of people are becoming victims of identity fraud each year.
During tax filing time, you'll never want somebody pretending to be you and then file a fraudulent refund claim. There are many identity thieves out there right now in search of your hard-earned money. You have to educate yourself to stop them. You have to learn how crooks access your information. Did you know that there are tools that online criminals use such as phishing, vishing, pharming or smishing?
Phishing is a form of online identity theft. It happens when someone sends an e-mail to you in an attempt to get personal information like your driver's license information, social security number, and other important information related to debit or credit cards and bank accounts. These e-mails generally have links or attachments that are intended to lure you in and surrender the information that you have been protecting all your life. They will create this email to attract any consumer into divulging personal financial information to fraudulent or spoofed web sites.
A phisher can easily send an email message to an innocent victim instructing him or her to click on the link to a particular bank's website that was provided in the email to confirm his account information. A phisher can actually copy a trusted and authentic website so that the unsuspecting customer takes the bait and then provides the financial information. Once this happens, the phisher can then use this financial information to clean out the victim's bank accounts or shop locally and internationally online. Be careful of phishers because they are the ones who send free online goods, services, or various prizes.
Vishing on the other hand is the popular telephone version of phishing, while smishing is the text message version. Identity thieves will call, sometimes harass you and posing as bank or government agents or representatives from those agencies. To prevent identity theft, never give out any personal information over the phone because this is vishing. Pharming is an online scam where a hacker installs malicious software on a server or personal computer in order to access the user's information. Pharming is more refined compared to phishing although it's still similar. Pharmers send emails to consumers and can be mislead even without opening an email attachment.
The unsuspecting consumer can be victimized through his or her personal financial information by just opening the email message that was sent through a virus or Trojan horse that's installed within the email itself. Once the innocent consumer tries to visit an official and trusted website, the pharmer's powerful software program redirects the browser to the pharmer's fake version of the trusted and official website to capture the personal financial information that the consumer will provide to the counterfeit website.
Be more careful now because the latest form of pharming no longer uses email nowadays. There are password stealing viruses or Trojan horses that can easily attack through messengers where keyloggers are being used. These keyloggers are viruses that track an online user's keystrokes on legitimate websites and ultimately steal passwords, that will allow access to his or her password for upcoming fraudulent transactions.
In the end, the financial loss, inconvenience, personal stress as well as suffering by victims is enormous. This is the reason why there are now many business companies offering services for identity protection and recovery like IdentityGuard, LifeLock, ProtectMyID, IdentityForce, TrustedID and others.
What is Restricted Data? These are confidential personal information such as social security number, driver's license number, medical information and more. They are restricted information that is protected by law or policy and requires the highest level of access control as well as security protections. Since we are living in a digital world, we also leave behind specs or traces of our own identities that can be combined to represent a detailed description of our everyday activities, friends and associates, hobbies and among other things. Since many of us participate in social networks, surveys or business related programs, use electronic devices, and among other things, then we are also more disposed and exposed to identity theft.
Indeed, there are many benefits living in the digital world. People can communicate faster and become closer together regardless of social status or location through high-end mobile or portable electronic devices. It's more convenient such as electronic maps that help us from getting lost due to their real-time physical location tracking system with the aid of verbal and audio directions. Social networks make people get more connected despite the distance. A growing number of people can even opt to work only at home because of our advance technology.
We have the capability to easily see and choose various products online with instant electronic payment options plus price comparisons that are boosting product assortment and lower prices. Giant digital companies, are constantly figuring out in advance what online customers want that is why it's necessary for them to track constant flow of data and be able to access personal information like purchasing history, shopping activities, location via physical addresses, debit/credit card information and among other things that are important for the growth of their business.
Identity theft is a serious problem that is why learning how to prevent it, is very important. Preventing identity theft begins on how well you manage your personal information. Electronic identity theft can still be prevented. There are important ways on how to reduce the risk of becoming a victim, by following some important tips below:
Methods and Practices for Protecting Your Data Electronically
1. Save the least amount of restricted data possible, and never forget where it is being saved. Securely delete it if there is no longer a business need for its retention. Never share restricted data with unauthorized individuals.

2. Use cryptic passwords that is hard to guess, and protect them well. Cryptic passwords that are very good will use a mixture of upper and lower case letters, symbols and numbers, and at least 8 characters in length. Think of passwords that are easy for you to remember so that you don't have the need to write them down. Use various passwords for different accounts that offer access to your restricted data compared to your less-sensitive accounts. Using and remembering strong passwords can be challenging but it's one of the most protective methods for keeping your data secure. Don't use easy to guess sources associated with birthdays, addresses, last names and other easy-to-crack ones. Always use a combination that is very hard to crack or guess. If you want to write your passwords, use your own way of coding just to remember them.

3. Make sure your computer and other electronic devices has all the necessary anti-virus and third-party application security updates or patches. You also need to know how to update them. Install a very reliable firewall as well as virus-detection software on your home computer. Keeping your software up-to-date eradicate bugs as well as improve speed and usability. You have paid for these updates, so use them to the maximum for your data protection.

4. Restart or shut down your computer at least once a week. This is a good way to install software and security updates that will also regularly check and monitor your computer. Always turn on auto-updates for more security protection.

5. Don't give anyone your password and never open any email attachments or click on any links unless you know for sure what you're opening. Avoid clicking on any mysterious link because hackers and scammers usually add those viruses through those types of linkage. Be extra careful with cryptic or shortened or tiny URLs since you may have a hard time knowing where they are supposed to go. Always delete spam and suspicious emails and never forward or reply to them.

6. Always protect your information when using the internet and email. Make sure that your restricted data are out of the cloud like Amazon, Google and others. Avoid providing sensitive or personal information especially your password to online surveys, various websites or forms unless you are sure that you're using a secure and trusted web page. Try to check for "https" for financial websites (not only http) that you can see in the web address (URL) because this is an indicator that there is a presence of a secure connection.

7. Protect your computer and other electronic devices from spyware, malware and ransomware. You may not know that your computer devices have already become infected because you had opened an email attachment that appeared to be secure and safe, but in reality it was a malware. Use effective tools for repairing malware infections such as Malwarebytes Anti-Malware. They have a free version which offers anti-malware, anti-spyware and anti-rootkit protection. The huge downside to the free version is that it does not include real-time protection or automated scans that you need for optimum protection for your computer or electronic device. Malwarebytes Anti-Malware Premium has higher cleanup abilities and you must consider pairing it with a more effective real-time premium antivirus too.

8. Avoid sending restricted data or personal information through instant message (IM) or even email. Hackers can get your password and then check your email's inbox and folders. These are never secure methods of communication so if you had sent or received restricted data through email, delete it securely and avoid saving it in your email's folder.

9. Never post personal information to social networking websites like Instagram, Facebook, Twitter, personal blogs and other online venues. Be mindful of what you post online at all times. Remember that once it will be published via the internet, whether as a message, an email or on a social network, any information is virtually there for anybody to view. Use common sense when commenting, posting pictures, and giving opinions. Avoid posting personal data and never click on unknown links or instant pop-ups as these can easily infect hard-to-erase viruses on your tablet, mobile device or computer. A lot of pornographic sites may also contain the worst viruses online so be careful not to view videos in connection to pornography. Some websites are only created, designed and published in order to steal information from innocent online visitors.

10. Be especially careful when using electronic gadgets while you are accessing them through public wireless connection because it's generally unencrypted. Avoid checking your online bank account or buying something while you are using the free internet WIFI connection. Your personal information and password that are sent through standard, unencrypted wireless connection are so easy for hackers to intercept and it can only take them a few minutes to grab those information.

11. Use an excellent and updated Antivirus Software. This can avoid hackers to hack those important information that you have online and in your computer. There are Premium Antivirus Protection that you may try to use such as Bitdefender Antivirus Plus, Kaspersky Anti-Virus, Webroot SecureAnywhere Antivirus or McAfee Antivirus Plus. They are known online to have good independent lab tests and lab scores.

12. Be very careful with your portable electronic devices that store restricted data like phablets, tablets, laptop computers, small and portable external hard disks, memory sticks, mobile phones, and more. These are the items that can be easily stolen so if you want to keep sensitive information on them, leave any of those in your house well protected from theft or fire damage.

13. Always secure your high-end portable electronic and mobile devices at all times. Lock them before you step away, even for a short time especially when you're at meetings, in your office, and public places. Be careful with your device that has restricted data because once it will be stolen, important and personal data that you had placed on it will be compromised. There are lockdown pc cables that are available in many office or computer supply stores so better get one for your device for safety reasons.

14. Be mindful of scams. Avoid installing unsolicited or unknown programs on your portable electronics, computers and mobile devices. Some software programs can secretly contain hard-to-remove viruses. By spreading these viruses to innocent users online, these scammers can now easily access personal and important data without the owners knowing it.

15. Always encrypt restricted data when you decide to transmit them. To encrypt is to put your message into a type of code for safety reasons. You can do this through your email, file transfers, and workstation or server communications.

16. Be cautious when storing your personal and restricted data. Avoid placing sensitive information in locations that are easily accessible. Do not capture restricted data in screenshots nor send or download them to an unknown portable electronic device or computer. Be mindful to use encryption for stored restricted data.

17. Always log off, shut down, lock, or put your computer and other electronic devices to sleep prior leaving them unattended. Create a very secure password to start up or wake-up any of your high-end electronic devices or computers. You can also set them to automatically lock when they're not in use.

18. Regularly log on to your online financial accounts to check if everything is fine. Check your bank, credit card, and debit card statements to see if all transactions are legitimate.

19. Properly dispose and re-use any of your computers, portable electronic devices and media. Personal and important (restricted) data should be destroyed from computers, portable electronic devices, electronic media, and back-ups prior to disposing, or re-using them. They must be securely wiped out or removed completely from workstations, portable devices, computers, printers, copy machines, faxes, data sticks, internal or external hard drives, CDs/DVDs, or from any form of storage that can be used by anybody without proper permission.

20. Restrict third party "cookies" on your computer. There are many websites that use "cookies" and when they do this, portions of their code will be stored on your computer in order to aid you remember the location at your last visit, help you with log-ins or keep score if you have been participating in a survey or playing a game. Cookies can also be used to gather various information which are downloaded the next time you visit that particular website. For your data protection, set the privacy settings of your web browser. This will warn you if you allow that website's cookie to be installed on your computer or not.

21. Check if your credit reports are accurate. Sign up for a trusted credit monitoring service, which can update and alert you by email to changes in your credit report. This is another way to prevent identity theft.

22. Be very cautious of any email with urgent requests for personal financial information. Be very skeptical in completing forms coming from email messages that require personal financial information unless your 100% sure that it's legitimate and safe.

23. Use proxy servers to surf the Internet so that your location and identity are difficult to find. A Virtual Private Network (VPN) will be widely used in the very near future for many online users. It could be considered as important as an internet connection because it secures your computer's online connection to guarantee that all of the data that you're sending and receiving will be encrypted and secured making your online identity a lot safer. A VPN establishes a secured and encrypted connection since all in-and outgoing connections will be anonymized and no third-party can see your real IP address. Hide.me is an example of a VPN and they offer a completely free plan without a trial period. This free plan does not require you to add a credit card or other payment method and has a strictly non-logging policy as well as non-creation of any activity logs.
Methods and Practices for Protecting Your Physical Data
1. Leave your Social Security card at home and only give it when absolutely necessary. Store your personal information inside a fireproof box in a safe place at home and at work. Avoid leaving it lying around just anywhere. As much as possible, have a back-up for your important paper documents by transferring them into electronic form and keep those data on a good hard drive, which can be physically stored in your fireproof box.

2. Always protect your PIN. Avoid writing a PIN on a debit or credit card. Do not write any of your PINS on a slip of paper and place it in your wallet. Once your wallet gets lost, it's easy for anyone to use your cards and match with the PINS that you have in your wallet.

3. Manage your receipts well. Request for incorrect charge slips as well as carbons too and compare those receipts with your account statements. Check for unauthorized transactions. Shred unwanted receipts, account statements, credit offers, expired cards, etc. to prevent dumpster divers confiscating your personal information.

4. Be cautious once you use ATMS and pay phones. There are "shoulder surfers" who are nearby and get the information that you entered. Use your free hand to shield the keypad if you use any pay phones and ATMs. Check some passers-by and be sure that they are not able to see the information on your monitor.

5. Contemplate on using only one credit card with a very low limit possibly $500-800 for small purchases, and simply leave the rest of them at home. This is a good prevention if someone can steal your wallet with that card in it, so at least the amount that can be stolen is limited. Leave your Social Security card and other important cards at home unless they are needed. The best way in securing the protection of your finances is constantly checking your financial transactions to make sure all of them are valid.

6. Observe your billing cycles. Once your financial statements or bills are late, immediately contact the sender. Never procrastinate if you feel something is wrong, the earlier that it can be checked the better.

7. Gather and save mail promptly. Request the post office to place your mail on hold if you want to go to a vacation or simply away from home for more than two days. You can visit the post office's official website for this request. Use the post office box or lock your mailbox. Allowing junk mail, newspapers, fliers, and other proof of absence that can accumulate in your inbox will only show that you're away.

8. Never respond to any unsolicited requests for any personal information in the mail, online or over the phone.

9. Check your credit report at least once or twice a year. If you suspect someone has gotten access to your personal account information, then check it more often. There are credit monitoring services like Equifax or Experian where you can act instantly if you think that there is a mistake or that your identity may have been stolen.

10. Secure your work area prior leaving it unattended. Always lock up your portable equipment and sensitive materials inside your home. Never leave your windows open and take keys out of drawers. Never leave sensitive information lying around, including copiers, printers, or fax machines.

11. Always protect your purse and wallet by being aware of your surroundings at all times. Never leave important and expensive items in plain sight especially inside your car.

12. Use cash for purchases in physical stores, or cash-bought gift cards if you want to buy online purchases as much as possible. This will prevent the use of private financial information if you want to purchase products or services.

14. If you want to order new checks, try to pick them up at the bank instead of having them sent to your home. Checks can be easily stolen from your mail, modified or changed and cashed by identity thieves.

15. Purchase a reliable cross-cut paper shredder for your documents and cards that you no longer need. So instead of throwing those documents and cards, shred them before thieves steal them from your trash.

16. Use prepaid phones and prepaid calling cards and prepaid calling cards if you want your calls to be untraceable. Prepaid phones with minutes can be easily bought for cash with no personal information required and once you remove the battery when not in use makes tracking even more difficult. There are services that will keep your calls and texts a little more private like Ready SIM. They have the simplest and best way, to keep your calls private through the use of a disposable phone number. It's affordable and has a self-activating way to instantly get a new number for your phone.

17. If your wallet is stolen, immediately alert all your creditors to prevent identity theft.
Unexpected IRS Email Refund to Taxpayers
If ever you received an unsolicited email that looks like it's coming from the IRS requesting that you file a Tax Refund Request, never fall victim to this identity theft scheme.
A lot of people are receiving unsolicited emails informing them that thousands or millions of IRS tax refund is due to them. They are luring people to complete a tax refund request form. The email code that is sent will be forged to appear as if it originated from a secure and trusted source, generally coming from the IRS or an IRS tax preparer, but upon viewing the Message Header or Message Source, it will reveal it's exact origin to be something fraudulent, and the particular link will not lead to a secure and trusted domain, but one that is controlled by online identity theft criminals.
Take note that if you file a tax return and a refund is due, you will automatically receive your refund and never be contacted by the IRS, or there is no tax refund request form to fill-out. Never disclose personal information to any unsolicited inquiry and if you have received a spoofed email message or believe that you have been a victim of pharming or phishing, there are important ways you can take to help shut down the pharmer, phisher or spoofer: you can forward the email to the Federal Trade Commission at spam@uce.gov and also forward the email to the abused email address at the company that is being spoofed for example spoof@amazon.com or spoof@ebay.com.
If you received an IRS Phishing email, the IRS will appreciate your fast diligence in recognizing that an email is suspicious and bringing it to their attention. Be assured that they will work hard around the clock with international authorities to detect and eliminate online threats of those phishing websites. If you received an IRS Phishing email, please forward it to both of the following email addresses to help the investigation and prosecution of these cases: phishing@irs.gov phishing@gov.com
The contents or any articles that you can read at CouponSaleDeals.com is for informational purposes only since they are simply based by the opinion of the author or publisher of this website. It is not a professional financial advice. Always consult a licensed professional tax advisor if you need one. The Publisher of this website has financial relationships with some of the companies mentioned through their products, and offers since they are our third party sites. The Publisher may receive monetary compensation in exchange for featured placement of sponsored products or services on this website so try to research your best before buying anything from our third party websites if you are redirected in one of them. The Publisher of this site strives to write good, educational and accurate reviews as well as articles to the best she can offer for the online community.
Thank you for visiting Coupon Sale Deals. Please check back for more discount coupons and other coupon codes that we will be adding to our website. These promotions, coupon codes, coupons, and other discounts are subject to change without prior notice and there is no warranty conferred upon them. The coupons displayed on this web page are for online use only. In short, these coupons or coupon codes will not be applicable if used in a local brick and mortar store.
Please take note that we are an affiliate so therefore try to do your own research when trying to buy any of our affiliate's products or services when you are being directed to their official website coming from this web page. All these deals, coupon codes and coupons listed on our site are posted to help you so that you can save your hard-earned money and shop for more deals. All the information that are listed here is for reference only, therefore Coupon Sale Deals will not take responsibility for any loss as well as damages due to any of those promotional products or services that you will receive coming from any of our third party websites.