How to Order Fresh Vegetable Meals Online
One day, I was curious and tried to order fresh vegetable meals online. Skipping the grocery store to avoid minutes of waiting in line for shopping next week would probably be worth it, as I thought to myself. I also recently received a good coupon discount from an online grocery delivery store called Hello Fresh and was glad to read good reviews about them, so I wanted to try ordering online.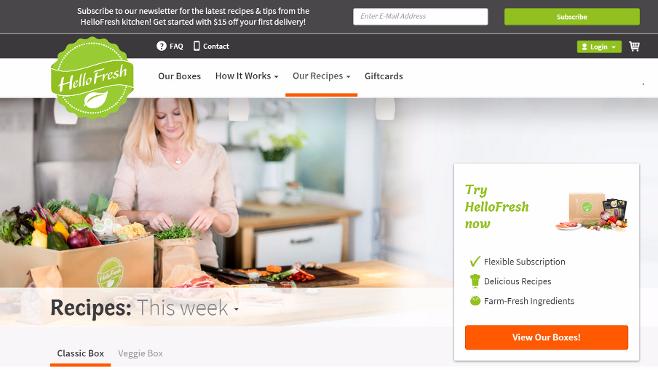 First, I tried to choose from their boxes, whether I want the one with sea food and meat (Classic Box for Omnivores) or vegetables (Veggie Box for Herbivores). I chose the one with vegetables for $9.08 per person/meal, which includes shipping. If you want the Classic Box, their farm-fresh ingredients starts from $10.75 per person/meal, which includes shipping as well.
If you order before midnight on a Wednesday, you may be able to get your first box the following week. Each box has three delicious meals and I ordered the one that's good for two people.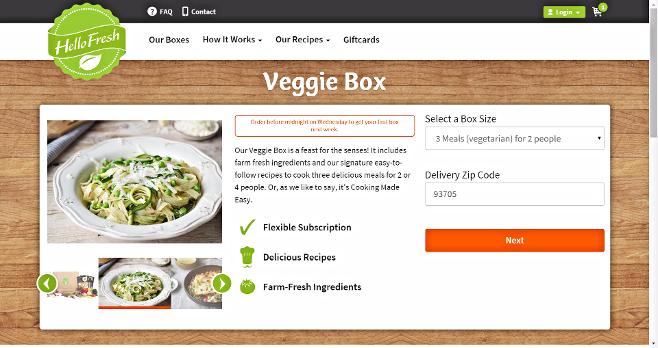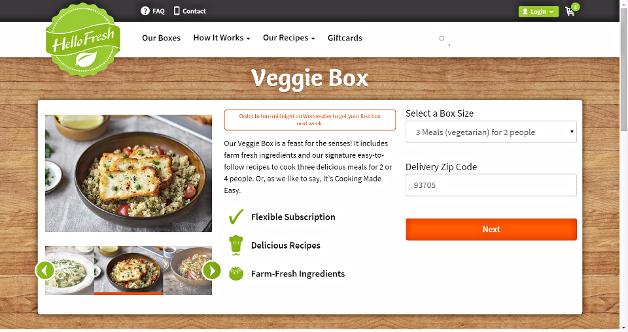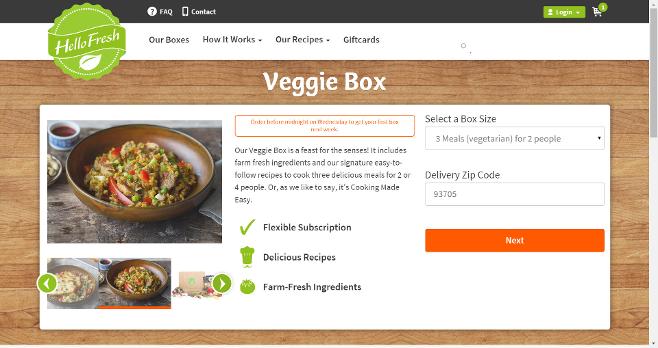 The Veggie Box was $59.00 but with my Promo Code, $40.00 was deducted to it. I only needed to pay $19.00 and I was glad that they offer free shipping.
Their Veggie Box included farm fresh ingredients with their signature easy-to-follow recipes to cook those three delicious meals good for 2 people. I filled-out the zip code area box and the day/time showed in the form for my first delivery.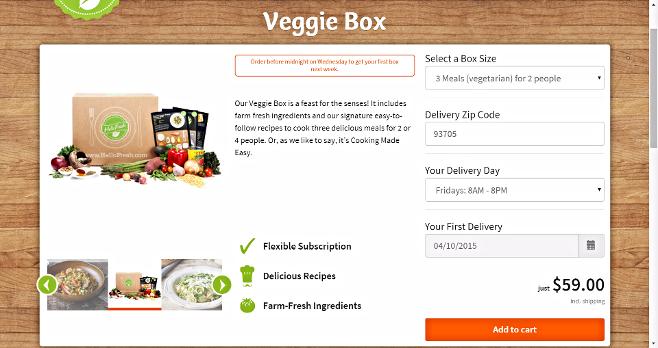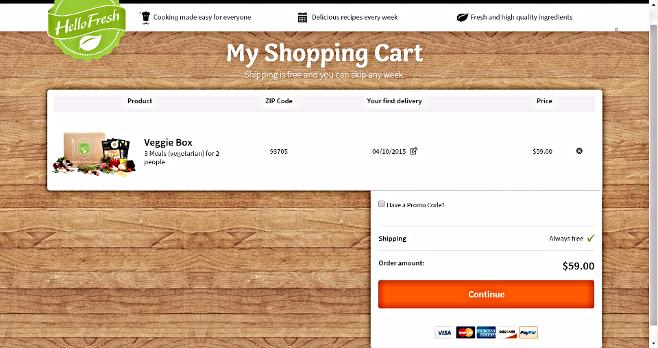 Take note that HelloFresh is a weekly subscription service so it means that another box will be delivered weekly to your doorstep. However, you can easily pause or cancel your delivery before midnight on that particular Wednesday before your next scheduled delivery if you want to.
You also have to remember that those full value e-Giftcards are exempted from this policy, since they are a 'one-off' purchase. You need to click the box which proves that you have read and accepted their terms and conditions including their privacy policy prior purchasing from their website as well as availing of their promo.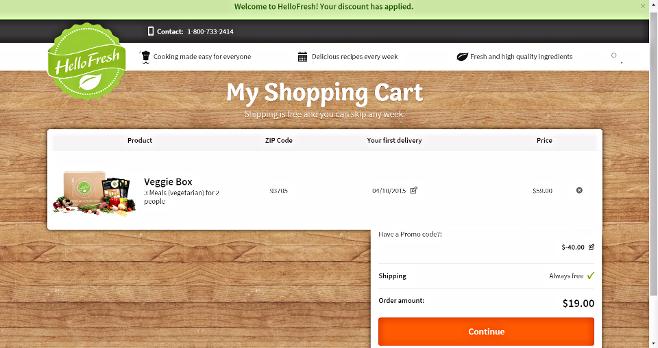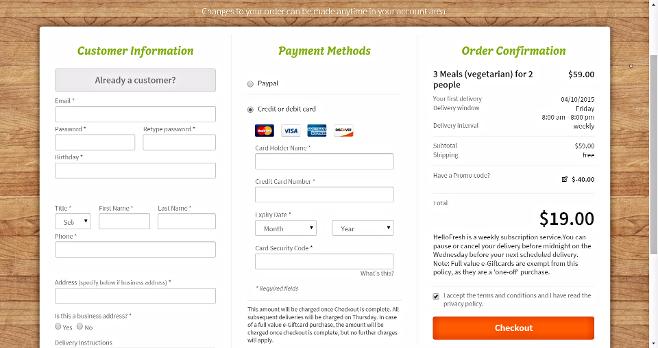 HelloFresh provides their customers with fresh, high-quality ingredients because they buy from local suppliers. Their meats come from animals that are raised without the use of antibiotics, growth drugs or hormones, this means that they have plenty of room to stretch and access to fresh air and sunlight that they need.
They do most everything for their customers from creating the recipes, to planning the meals, to grocery shopping, plus delivering all of those ingredients right to their doorsteps! HelloFresh generally have good reviews from many of their customers who love the cooking-made-easy style that brings a lot of fun! They offer weekly delivery of healthy and delicious recipes using high quality ingredients to prepare them. Plus, they have a flexible subscription service that is easy to use and can be also cancelled at any time.
HelloFresh has convenient meal options that are effortlessly prepared by even the busiest people on earth. They have a recyclable packaging that keeps their food fresh. Their chefs create nutritious recipes every week that are easy to prepare with interesting meals that are simple. They ensure that their customers' diet are balanced and varied. They do the shopping based on their created recipes and planned meals, then deliver all of these pre-measured ingredients right to their customers' doors for free.
All their customers have to do is cook the healthy meals in their own homes. Their mission is to help people get nutritious and delicious meals on the table. They are proud to work with some of the best purveyors in the country to make sure that their customers receive the best ingredients. Hello Fresh offers new cooking skills and how to use these delicious ingredients with their step-by-step recipe cards.
All of their recipes are created so that even the most novice chef can shine in the kitchen since they work closely on recipe development with their in house dietician to bring customers delicious, exotic and comforting dishes every week. This can also get rid of excess food waste by providing their customers with the exact, pre-measured ingredients that they need to make a complete meal. They deliver everything from spices, to the last garnish of herbs that can save extra purchase of food at the grocery store.
Thank you for visiting Coupon Sale Deals. Please check back for more discount coupons and other coupon codes that we will be adding to our site. These promotions, coupon codes, coupons, and other discounts are subject to change without prior notice and there is no warranty conferred upon them. The coupons displayed on this web page are for online use only. In short, these coupons or coupon codes will not be applicable if used in a local brick and mortar store. Kindly visit their website to find and verify these coupons, and product information as well as the restrictions on their coupons codes and coupons prior to any of your purchase.
Please take note that we are an affiliate so therefore try to do your own research when trying to purchase any of their products or services when you are being directed to their official website coming from this web page. All these deals, coupon codes and discounts listed on our site are posted to help you so that you can save your hard-earned money and shop for more deals. All the information that are listed here is for reference only, therefore Coupon Sale Deals will not take responsibility for any loss as well as damages due to any of those promotional products or services that you will receive coming from any of our third party websites.
About Us | Disclosure | Privacy Policy


*Coupon Sale Deals is not responsible for the content

of our third-party external web sites.