How To Get Cashback Through Your Groupon Purchase!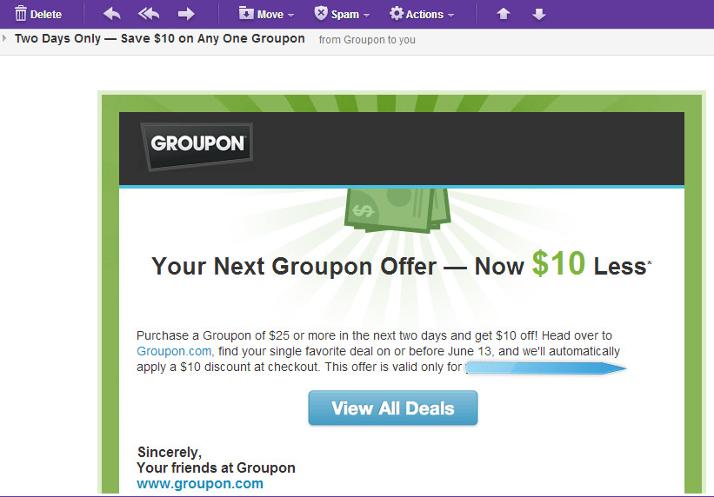 Groupon is one of the "Cash Back Stores" that you can see through Fatwallet. They feature a daily deal on restaurants, children's toys and items, great sale for both young and old (men and women), the best stuff to see and visit different cities across the United States.

I am not affiliated with Groupon (as of this writing, June 12, 2013) but I did sign-up for them as a member shopper since I had read good reviews about their site and also love to shop online. I was glad that from time to time, they send me a "Groupon Offer" through my email address in addition to their deals at discounted prices.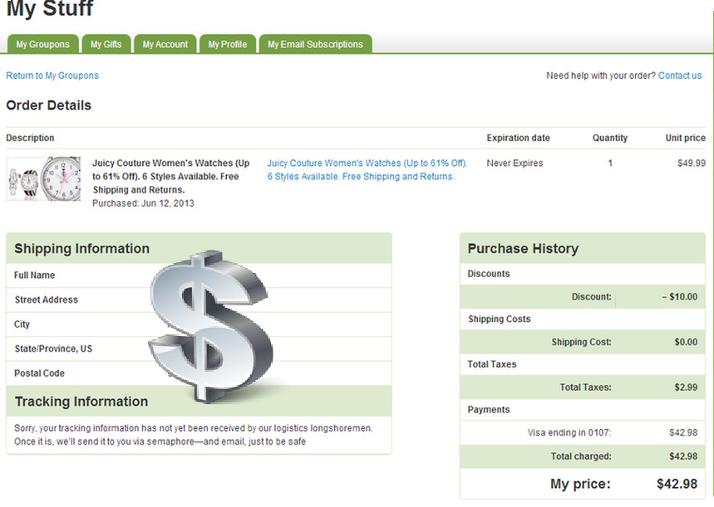 I used their "Groupon Offer" (please see above photo) and I was glad to receive a good amount of discount with the item that I bought at their website. For those shoppers who like Groupon as much as I do, you can go through Fatwallet and receive cashback. I just shopped by using my Groupon Offer and had saved more since I visited Fatwallet first and clicked the link which has the 8.0% (please see the photo below) and was happy to stretch a little of my dollars with this cashback!

If you are one of the online shoppers who are looking for cashback, coupons, sale and deals, Fatwallet could be for you. They offer store coupons, hottest deals by category, promo codes, deep discounts and special offers from more than 1,000 trusted and popular and big online stores such as Disney, HP, WalMart and Orbitz.
You can earn Cash Back at hundreds of stores on thousands of offers since FatWallet shares their commissions with its members. Their Cash Back generally ranges from 1-40% and some stores generally increase their cash back percentage at various times of the year with Cash Back Sales. Their merchant "relations team" works directly with their retail partners year round to make sure their members are presented with store offers that are relevant and their cash back rewards are also accurate.
They also have the web's good bargain hunting community who share great deals and have experts to check those multiple reviews in order to certify that each deal is a valued purchase for the online community. In short, Fatwallet does the research for you to save you time and money.
As an online shopper, you can also communicate with the same people like you who want to save money online and the FatWallet forums bring you the insight from thousands of informed consumers, all coming together to share deals, money-saving tips and more. It's free to join and fun too.
Fatwallet has a 24/7 Customer Service that is there to help you. They are quick to respond and their cash back support team are respectful and knowledgeable to resolve any issues that you may encounter.
If there's a Groupon item or anything that you're thinking of purchasing today, you may click the "Fatwallet Button" below because they could be offering double cash back like the one that I had (8.0%). Their cash back percentage offer does change and vary anytime.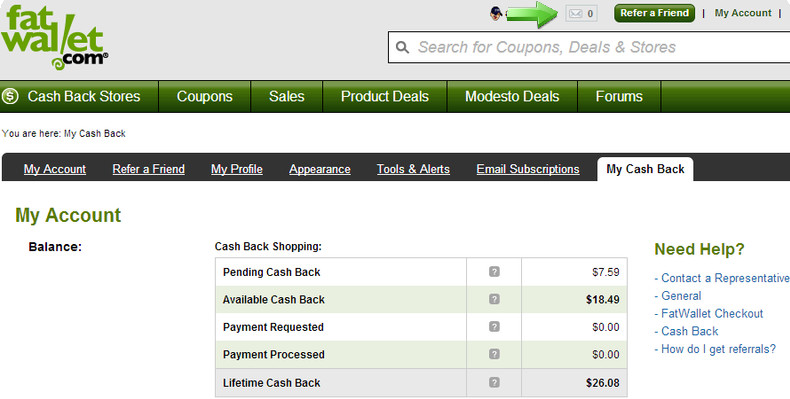 The above photo shows my cashback reward through Fatwallet, helping me get my money back for shopping online. Merchants pay Fatwallet commissions since this website send us (potential buyers/customers) to these merchants that they have links with. As a cashback site, Fatwallet gives their members a percentage of those commissions. This is the reason why they remind their members to click through the trackback link that brings them to any of their merchant's online store and complete the purchase.
How do their members get paid? They pay their members through Paypal or Check by mail. I had a good experience being paid through PayPal which was fast (only took one day, please see pictures below) and if you opt for payment through Check by mail, it could take a week or two.
When I received the $10 Groupon Offer through my email on June 12, 2013, I bought a watch and use the Fatwallet link to go to the Groupon website for an additional 8% discount then requested the payment for my available balance at Fatwallet. This $18.49 was already there prior to my Groupon purchase but my point was, when I requested my available balance (cashback from various stores), Fatwallet was able to send it to me for only a day and their website was easy to use. Below was the amount I received from them.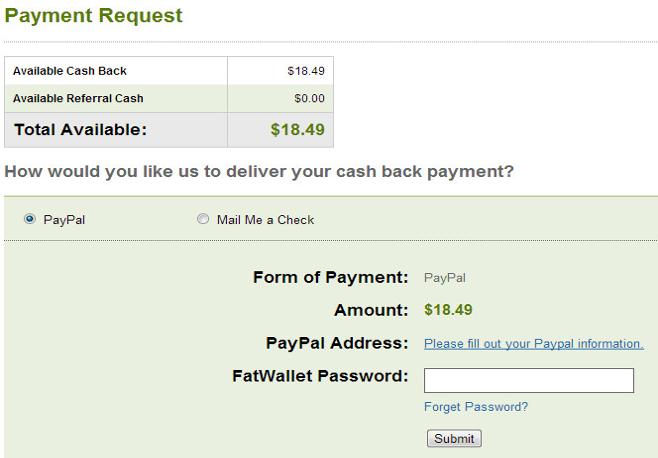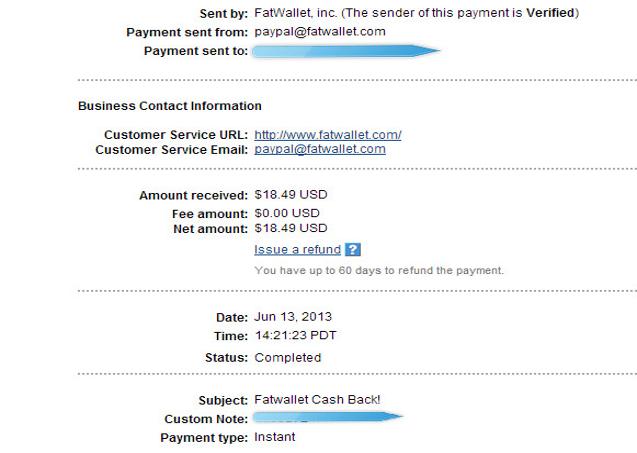 Fatwallet offers a Referral Program where members get rewarded for informing online shoppers about their website. I had placed a Widget on the upper right side of this page to share their sales, coupons as well as their forum hot deals. Everyone who signs up by following a link from the button/widget on my website will earn me a bonus after the first qualified purchase.
A qualified referral is a new user to FatWallet referred by a member who makes a purchase of $25 or more earning cash back. They don't allow self-referral and returned purchases do not qualify.
Take note that if you are one of their members and you want to refer others...they do not allow anyone to post messages or links on any FatWallet partner stores' Facebook pages or forum pages using your referral links since this will only result in disqualification from the referral bonus program.
Keyword bidding for search marketing campaigns is not allowed too. In order to qualify for the bonus, the new member you refer should come through your custom referral link, the invitation forms on Fatwallet's webpage or other methods supplied by them that allow for proper tracking of referrals, and must make a qualifying purchase within 365 days of their sign up date. Every qualified referral to FatWallet earns $5.00 which is added directly to his or her FatWallet account.
I want to post my own link below and everyone who signs up by following my link will earn me a bonus after a first qualified purchase. Thanks for reading this article and I hope that this helps. I am placing a Fatwallet Button below to direct you to their website if you want to sign-up for them:


*Coupon Sale Deals is not responsible for the content

of our third-party external web sites.